One year ago, long before the world was forced to go virtual on everything, we started an experiment to livestream our research meetings, which typically consist of reviewing a paper relevant to our work, discussing new ideas, and engaging in interactive whiteboard sessions.
These research meetings are central to our work, but up until then, they had been entirely private. As we talked about making these meetings open, we had to confront a few concerns. First, there are occasional topics relating to our partners that we don't want to share, so we've had to retrain ourselves to not mention those. More significantly, we were worried about whether the livestream would disrupt our research. Research meetings are a place to speak freely; collaboration requires speaking up and throwing out ideas without worrying about performing for, or receiving scrutiny from, an audience. After much discussion, we decided that if we could do it in a way that did not change the meetings, the potential benefits would be worth it. So the experiment began, and anyone who wanted to join could pull up a virtual seat in our conference room in Redwood City, California.
One year later, the experiment is still going strong. Some things have changed–these days no one is in the conference room, as we all work at home while sheltering in place–but the meetings continue and are open to all. When we started, we were excited to share our work with a wider audience and engage with the community in a more direct way. What we didn't anticipate was what turned out to be one of the biggest benefits: the fruitful interactions we've had with researchers and authors whose works we discuss.
It started last July, when Professor Priya Panda visited Numenta for a couple days. She presented her paper, which has since been published in Nature: Towards spike-based machine intelligence with neuromorphic computing. Highly relevant to our work involving dendritic spikes, this paper was one our team likely would have reviewed anyway. Yet having the author present it, while livestreaming the discussion to a broader audience, was new for us. Priya described it as "A wonderful experience discussing the emerging field of neuromorphic computing: opportunities, challenges and perspectives with Jeff, Subutai and others."
Those livestreams became a catalyst for ongoing collaboration that continues today. "I think the best part of the research meetings were the discussions afterward on the topics we can explore and what are the possibilities for enabling energy efficient machine intelligence from hardware-algorithm co-design viewpoint," Priya said. "Our discussions did not just end there. Subutai came to Yale and presented some ongoing work, which was very well received by Yale faculty and students. Look forward to more such engaging discussions."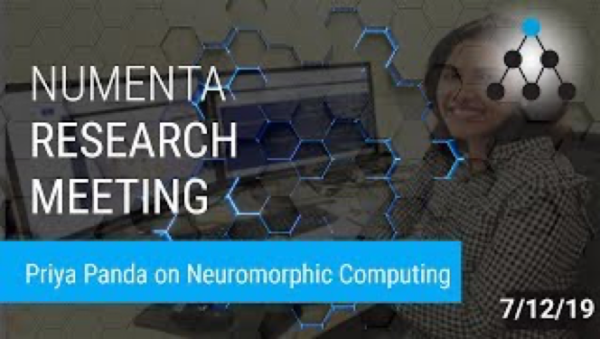 A few months later, when preparing to review Paul Cisek's paper, "The Affordance Competition Hypothesis," our community manager Matt Taylor reached out to Paul with some questions about it. That outreach brought Paul to our open source forum, where he joined a thread about his paper and continued the conversation long after the live meeting.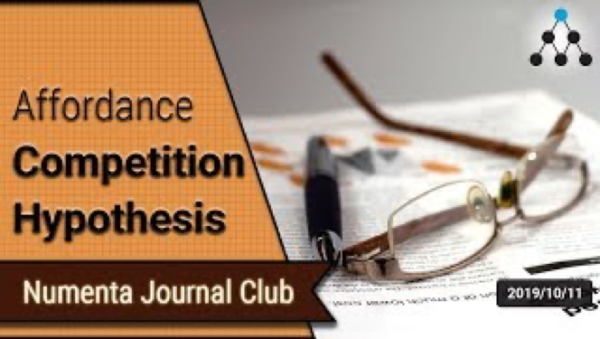 We've since been in the habit of notifying authors when we're preparing to review their work. If we don't have their email, we'll tag them on Twitter. The response has been overwhelmingly positive, and many of them take advantage of the rare chance to join a discussion focused on their research and answer questions directly.
Such was the case in a meeting last month when the team reviewed, "Navigating with Grid Cells and Place Cells in Cluttered Environments" by Vegard Edvardsen, Andrej Bicanski, and Neil Burgess. One of the authors joined the livestream and was able to answer questions in the chatroom throughout the meeting, while the lead author emailed after the meeting to make an introduction and offer to answer any additional questions.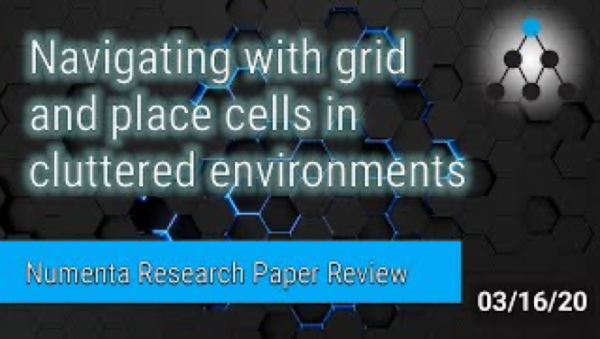 It's common that when authors are unable to join, we hear from them afterwards, perhaps after they've watched the recorded stream. A few weeks ago, our Co-founder, Jeff Hawkins, did a short review of a book he'd recently read, "Making Space: How the Brain Knows Where Things Are" by Jennifer Groh. Not knowing the author, we tagged Jennifer on Twitter, and she was able to point us to additional materials.
As we enter our second year of livestreaming our research, it's hard to imagine not conducting the meetings this way. It has enriched our discussions, our community, and our research. We're also aware that much of the world is moving online. The global pandemic has put an indefinite pause on the in-person conferences and meetups that underpinned the neuroscience and machine intelligence communities. Meanwhile, scientific research seems to be moving in a more open direction, by necessity – a positive outcome from a difficult time. We don't know what the next year may hold, but we look forward to continuing our livestreams and connecting with even more researchers as we proceed down the path of advancing machine intelligence with neuroscience.